Work History
Images Attributed to Greg Horn
Notes
Trivia
See Also
Official Website
Links and References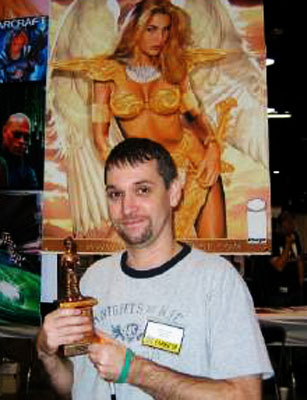 Real name: Greg Horn
Occupation: comic book artist
Legal status: American
Marital status: Marital status unknown

Greg Horn is an American comic book artist for Marvel comics and Cover Artist for various publications. His medium is digital painting and uses models for reference. He is well known for detailed and realistic painted characters, paintings of beautiful female characters, and tremendously expressive lighting effects. He has also done posters for Basketball at the 2004 Summer Olympics and video game magazines such as Official Xbox Magazine and InQuest Gamer, and several covers an illustrations for the comic book news magazine Wizard.
His latest projects include covers for the on-going She-Hulk, Ms Marvel series from Marvel Comics and the series MELTDOWN from Image comics.
In 2005, Horn was committed by Warner Bros. Pictures to do promotional artwork based on the Brandon Routh's portrayal of Superman in the film "Superman Returns". His artwork was mostly used in merchandise, including Mattel's toy line inspired in the movie.

Trivia
See also
Links
---
---
Greg Horn is the cover artist for one issue of the Charmed comics.
In response to someone asking when he would do another cover for the Charmed comics, Greg Horn tweeted that he would soon. The actual issue he will be doing a cover for is unknown, but he will be doing a second cover.
Bio
Covers
Other Works
Links
Gallery
Charmed Covers

Other Art
Community content is available under
CC-BY-SA
unless otherwise noted.